Surprise with flowers and a bottle of champagne to the room! Order some nice chocolate pralines upon arrival. Adapted for 1-2 people. The Champagne is well selected by our own sommelier and varies during the year.
For those of you who book a room directly with us on our website, ordering of room extras can be added online in our booking engine. Also afterwards if you enter our booking number and your last name via My Booking.
Would you like to order something as a surprise to someone staying in the hotel? Contact us for ordering room extras by email or phone below and we are happy to help you.
Menu
Luxury pralines
4 chocolate pralines from Upper House. SEK 145
Fruit & Berries
Fresh fruits or berries that vary by season. SEK 200
Wine
37 cl Champagne
Charles Heidsieck Brut Réserve, France
SEK 598
75 cl Champagne
Charles Heidsieck Brut Réserve, France
SEK 925
75 cl Champagne
Bollinger Special Cuvée Brut, France
SEK 1450
75 cl Champagne
Louis Roederer Cristal 2013, France
SEK 3950
Our selection of non-alcoholic beverages can be found in the mini bar in the room. 
Flowers
Small bouquet
Flowers of the season SEK 425
Romantic red roses SEK 425

Large bouquet
Flowers of the season SEK 595
Romantic red roses SEK 595
Balloon & flower
Heart-shaped balloon with a beautiful red rose SEK 250
Flowers Forever roses gift box*
With red roses SEK 650
(*naturally preserved roses in a gift box)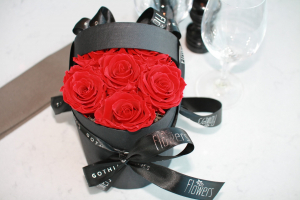 Welcome to contact us for an order!
Room extras can be ordered no later than. 12.00 the day before arrival for delivery to the room. Sunday delivery is 48 hours prior to arrival.
Reservations
Tel: 031-708 83 20
Email: [email protected]
(The pictures do not illustrate exactly the products and the assortment and can vary, expire or end from supplier. Subject to changes.)