New Year's Eve at Upper House
Upper House Dining is this year offering an extraordinary New Year's Eve experience. With sweeping views over Gothenburg as the city celebrates the new year, you and your party can enjoy a fantastic New Year menu, an extravaganza of food and drink.
We offer a choice of two menus for New Year's Eve. Simply choose the one that suits you and your party best:
Fine Dining Tasting menu
20 courses
New Year here with us on the 25th floor. The perfect place to see in the New Year, with sweeping views over the glittering skyline of Gothenburg. Our Fine Dining menu offers a full evening of 20 courses accompanied by carefully-selected wines. The package includes everything you need for a perfect evening: from pre-dinner drinks to champagne at the stroke of midnight. An experience for all your senses.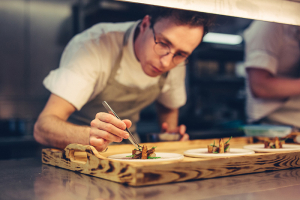 20 courses with drinking package and a glass of champagne – 3800 SEK /person
Casual Dining 7-dishes
5 corses
Celebrate New Year with the best views in Gothenburg. We are getting ready to serve a playful 5-course menu featuring 7 dishes. And naturally there will be some surprises during the evening. Delicious and carefully-selected wine pairings to accompany each element.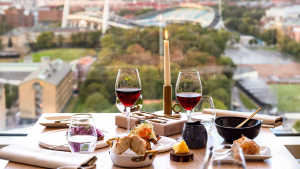 7-dishes and 5 courses with drinking package and a aperitif. 2300 SEK /person
Book a table
Phone: +46 (0) 31-708 83 31
email: info@upperhouse.se
Come on up and join us!
P.S. We also offer non-alcoholic drinks packages to accompany our New Year menus.